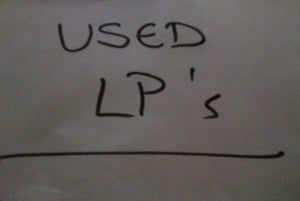 £

1.76 - On Sale
Due to space issues I've decided to clear out some duplicates and/or other LP's/12"s/10"s etc, that I no longer listen to!
In a majority of cases there will only be one copy of each available!
So here's where we are:
I've now added a selection of new Records (Some may have some slight creasing caused by lengthy overseas shipping!), and all are priced at £6.50 each....
Bullnettle - S/t LP (BLUE Vinyl) (Dirt Cult Records, 2016)
The Homewreckers - I Statements (GREEN Vinyl) (Nervous Nelly/Mooster Records, 2015)
Rations - Apathy Is An Institution LP (PINK/BLACK SPLIT Vinyl) (Multi-Labels)
White Night - Immortal LP (Dead Broke/No Breaks Records, 2011)
Second Hand/Used Records, various prices.....
Ass-End Offend - Character Assassins LP (Wantage 2004) NM/NM £2.11
Bachman Turner Overdrive - Not Fragile LP (Mercury 1974) Gatefold embossed sleeve a bit bit creased/worn on edges... G+/VG £2.25
Civic Minded 5 - E=CM5 LP GREY Vinyl/300 (Recess 2001) NM/NM £3.87
Demolition Girl & The Strawberry Boys - Glittercocks & Pneumatic Pumps 10" (10 Tracks Homesick) VG/VG £1.73
The Disappeared - The Radical Miracle 12" (IHPRR) NEW £2.96
Eureka California - Big Cats Can Swim LP (Happy Happy Birthday To Me 2012) NM/NM £7.38
Tim Holehouse - Fighter 10"+CD (aaah!!! Real Records 2013) NEW £2.96
I Object - Teaching Revenge LP (Alternative Tentacles 2006) NM/NM £4.28
Isley Brothers - 3+3 LP (Epic 1973) Gatefold sleeve a bit creased/no tears! VG+/VG £1.54
The Judas Factor - Kiss Suicide 12" GREEN Vinyl/223 (Revelation 2000) NM/VG+ £4.64
Killer Dreamer - 1,000 Years Of Servitude LP (Razorcake 2008) NM/NM £5.71
Loud - Explosive 12" PICTURE DISC (China 1990) NM/NM £0.97
Loud - Sex EP 10"/laminate pass (China 1991) NM/NM £0.82
Loud - Easy 12" Cover Signed by Whole Band (China 1992) NM/NM £0.77
Melissa & Paul - Live Hard 10" BLUE Vinyl (Gruff Beard) NEW £2.36
The Omnipresent Disease - Dressed Like You 10" (Crapoulet 2010) NEW
Scream - Fumble LP CLEAR Vinyl (Dischord Reissue 2016) NM/NM £7.82
The Shieldsss - S/t 12" w/Screenprinted B-Side (Surfin' Ki 2010) NM/NM £1.76
Slingshot Episode - Fault Lines Sleep For Now LP RED Vinyl (What Else? 1999) NM/NM £5.49